KLM Royal Dutch Airlines celebrated 100 years of flying on 7 October 2019 as well as 10 years of flying to Bali this year in 2019. It is the world's oldest international airline that is still operating under its original name.
The airline sent over a media drop of delicious stroopwafels, two vintage aircraft models, a travel pouch and water bottle made of recycled materials, a notebook and pens to celebrate the milestone. Over the years, I've also collected a few other KLM aircraft models and flew for the first time between Singapore's Changi Airport and Bali Denpasar on KLM's business class, collecting my first few Delft Houses.
On 19 December 2019, KLM released their Facts & Figures 2019 chart showcasing the achievements and stats for the year. For the aviation enthusiasts, it is sad to see 3 747s phased out. But the airline added four 787-10s and four 737-800s. It has 172 aircraft on its fleet to date.
Some 35 million passengers flew on KLM and 9.2 million on Transavia. As part of its centennial celebrations, 65,000 visitors attended the KLM 100 celebrations.
KLM launched the 100th Delft Blue House
KLM Royal Dutch Airlines issues a new Delftware miniature to World Business Class passengers on intercontinental flights every year on 7 October to mark another year of the airline's anniversary. These Delftware miniature houses are replicas of monumental buildings throughout the Netherlands.
And for the occasion of the 100th anniversary, KLM marked this milestone with a new miniature which replicates the Huis ten Bosch Palace in The Hague, the home of King Willem-Alexander and his family.
The Huis ten Bosch Palace was built in the mid – 17th century at the behest of Prince Frederik Hendrik of Orange and his wife Amalia van Solms. It was extended in the first half of the 18th century by Prince Willem IV. After Willem I was crowned King of the Netherlands in 1815, the palace was regularly home to members of the Dutch royal family. Since January 2019, Huis ten Bosch Palace has been the residence of King Willem-Alexander, Queen Máxima and their three daughters. The palace also serves as a ceremonial venue.
KLM Opens new Non-Schengen Crown Lounge in Amsterdam
KLM Royal Dutch Airlines officially opened its completely renovated non-Schengen Crown Lounge at Amsterdam's Schiphol Airport. The lounge offers new food & beverage options and innovative technologies in five unique areas inspired by the typical Dutch landscape of Polder, City, Sea, Dutch Mountain and Sky. When you step into the entrance of the lounge, close to 5,000 KLM Delft Blue houses guide you on your way to a warm welcome.
Located between E & F piers at Schiphol, entry to the lounge can be accessed by scanning your boarding pass at the self-service machines. Eligible customers include business class passengers, Flying Blue Platinum and Gold members with paid access to one guest, SkyTeam Elite Plus members and one guest.
Non-eligible travellers can still purchase access to the lounge for a fee of maximum €65 (with discounts depending on Flying Blue tier level) through the KLM app, KLM.com or at the self-service machines in the airport or at the entrance to the lounge, depending on their destination and lounge capacity. Payment with Flying Blue miles is also possible.
The dynamic heart of the lounge is inspired by the 'Grachtengordel' – the canal area in the city of Amsterdam. Here guests can experience live cooking, enjoy the Heineken bar and a barista coffee bar. Fresh and seasonal bites, dishes and beverages are supplied by KLM's partner Vermaat any time of the day. As part of the airline's waste reduction vision, pulp from orange juice is reused for muffins.
Amenities available at the lounge include 20 showers, 20 luxury private sleep cabins (Available for 3 or 5-hour time slots from €49.50) and virtual reality cabins; a terrace overlooking the runways, online lounge guide, self-service kiosks and Personal Lounge Assistants.
This lounge is open daily from 4.45 am till the last KLM flight departs.
Blue is the new restaurant and adjacent bar at the lounge. It is a paid fine dining restaurant with a menu for breakfast, lunch and dinner helmed by Michelin-star Chef Joris Bijdendijk of RIJKS in Rijksmuseum. Chef Bijdendijk uses local authentic ingredients, favouring smaller producers.
Guests here can enjoy views of the airport runways while enjoying seasonal highlights such as 'Oosterschelde' lobster, white asparagus and 'Bergse' anchovy. Complement your meal with wines from a list by young Dutch talent Terence Schenk. The restaurant also has a cheese cabinet, beverage room, outside terrace and several private dining rooms. Sit at the open kitchen counter if you would like to see how your food is prepared as part of the dining experience. Prices for breakfast start from €16, while lunch and dinner start from €28. Beverages at Blue bar start from €3.50 while the food menu there starts from €12. If you must dine in one of the private dining rooms, the prices start from €350 per room. There may be plans to allow diners to pay with Miles in the future.
Blue is open daily from 7am to 10pm. Reservations for restaurant, bar and private dining rooms can be made in advance by phone: +31650030360, via lounge.klm.com or via bluereservations@klm.com.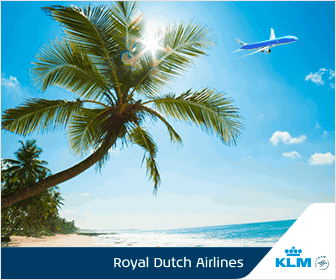 KLM's Tech & Travel Trends For 2020
KLM Royal Dutch Airlines look to the future of travel, from booking with the air of voice technology and sustainable alternatives such as rail services to facial recognition technology at security.
Destination Instagram
A survey on 400 people by Factsnapp and commissioned by KLM shows that half of Gen Z and millennials pick Instagrammable destinations when booking. Taking beautiful holiday photos have become a prerequisite for 25.8% of them and they have to be authentic and taken by them personally.
Voice Technology for Navigation
More people are using 'Smart Speakers" to get information for their ideal travel destination as well as to find suitable air tickets. Voice Technology is the next big thing and KLM's booking service is often consulted with the aid of Google Assistant. This is attracting 10% more users every month.
Social Media Influence from Family and Friends
Instagram grows as a significant source of travel inspiration. About 65.3% of travellers surveyed look at posts from friends and family while 45.9% click on hashtags to seek inspiration from strangers. Reliance on Influencers and celebrities as a source of holiday inspiration is declining more and more at only 14.5%. Over 50% of travellers do not trust photos of holiday destinations shared by influencers.
Combined Air & Train Travel On The Increase
More travellers are taking into account of sustainability when making bookings. Travel operators have joined forces wherever possible to offer rail tickets for shorter distances as an alternative to flying. KLM will add more options to its website to plan short distances by train. Combining air and rail travel can be planned and booked easily.
CO2 emissions – Are you Compensating for It?
More passengers are compensating for their share of carbon emissions. KLM's survey revealed that 38.8% of travellers plan to compensate for CO2 emissions next year. KLM is introducing CO2-tikkie, a new quick mobile payment system in 2020.
KLM has purchased sustainable aviation fuel (SAF) produced by Neste from used cooking oil for flights out of Amsterdam Airport Schiphol to reduce CO2 emissions by up to 80% compared to fossil kerosene. The quantity of SAF will be blended with fossil fuel and is entirely certified according to the conventional specification for aviation fuel (ASTM), meeting the same quality and safety requirements.
KLM only sources sustainable aviation fuels based on waste and residue feedstocks that significantly reduce the CO2 footprint and do not have a negative impact on food production or the environment. The sustainability of the chain is ensured through certification by the International Sustainability and Carbon Certification Plus (ISCC+) and the Roundtable on Sustainable Biomaterials (RSB).
This volume is in addition to the existing supply from Los Angeles to bridge the period towards the opening of the SAF production plant which is to be built in Delfzijl, the Netherlands in 2022. This plant which is being developed by the support of KLM along with industry partners will supply 75,000 tonnes of sustainable aviation fuel a year to KLM.
Your Face is Your Passport
Facial recognition technology is on the rise at airports. KLM conducted tests earlier this year. Passengers passed through checkpoints at security, lounges and boarding by showing a selfie in the KLM App on their phones instead of presenting their passports. More passengers will get to use this in 2020 when new tests begin.
Shorten Waiting Times with AI
Artificial Intelligence will help to reduce inconvenience to passengers by calculating how best to deploy crew and aircraft during unforeseen circumstances such as thunderstorms. This AI will help reduce flight delays and improve flight punctuality in 2020.
Luxury and Relaxation at the Airport
Transfer passengers will be able to rest in sleeping pods at KLM's new non-Schengen Crown lounge. Or enjoy a luxury dinner created by Michelin-starred chef Joris Bijdendijk at Restaurant Blue.
Less Reliance on Mobilephones
Travellers increasingly prefer to stay off their mobile phones while on holiday, or use it less. But they can't go without the phone altogether. Some 50% of passengers would prefer to use their phones as little as possible on holiday. But they also indicate that this is not always possible. Almost a third of passengers would like to travel without a phone but are afraid they will find this impossible. It would be impossible for me because I would rely on Google Maps to get me around. Or in countries where English is not the common language, then the mobile phone helps me with translations.
KLM Trials Closed-Loop Recycling System for Catering Supplies
On 18 December 2019, KLM Royal Dutch Airlines flew from Amsterdam to Vancouver on KL0681 with catering supplies that have mostly been collected and recycled with a new, closed-loop system. KLM is the first airline in the world to trial recycling of different catering items within a closed-loop system. The trial is done jointly with De Ster, KLM's supplier of catering materials as well as with meal suppliers Marfo, Izico, Ipack and AA Bakeries.
Containers, lids and glasses were collected in December off four Vancouver-Amsterdam flights. They have been cleaned and are used on this flight after recycling.
Dessert and Salad trays, lids, plastic glasses and hot meal trays would have to be disposed of on flights from outside Europe according to European legislation. But now they can be washed and recycled. Cutlery can be reused after it has been washed and checked.
This initiative is part of KLM's Fly Responsibly programme, where the airline is committed to creating a sustainable future for air transportation. Through this programme, KLM invites private customers to take part in its CO2 compensation scheme, while business customers are invited to reduce the carbon footprint caused by their business flights by taking part in the KLM Corporate BioFuel Programme.
KLM Took Delivery of 31 Boeing 737-800
KLM took delivery of its 31st Boeing 737-800 from the Boeing Factory in Seattle on 19 December 2019. The aircraft with registration PH-BCL bears the name "Red-crested Pochard". ALl KLM 737 aircraft are named after birds. The four new NGs feature a completely new interior with larger luggage bins, modern LED lighting, new seats with adjustable headrests and USB power with every seat. With the arrival of this aircraft, KLM has 52 Boeing 737s in its fleet. That's 16 737-700s, 31 737-800s and five 737-900s.